We love making doors at The Wooden Window & Door Co.! It is mostly because requests for doors usually come from customers who by nature are quite eccentric, thus, the door is reflective of this eccentricity. We have a lot of fun here when the creativity component is alive. That being said, we can make any style of interior or exterior door. Our exterior doors usually run between 1-3/4 to 2-1/4 thick.
Below you can view just some of our entrance systems and doors - everything you see on this page was made exclusively by us from scratch in our own shop in Woodville, NS.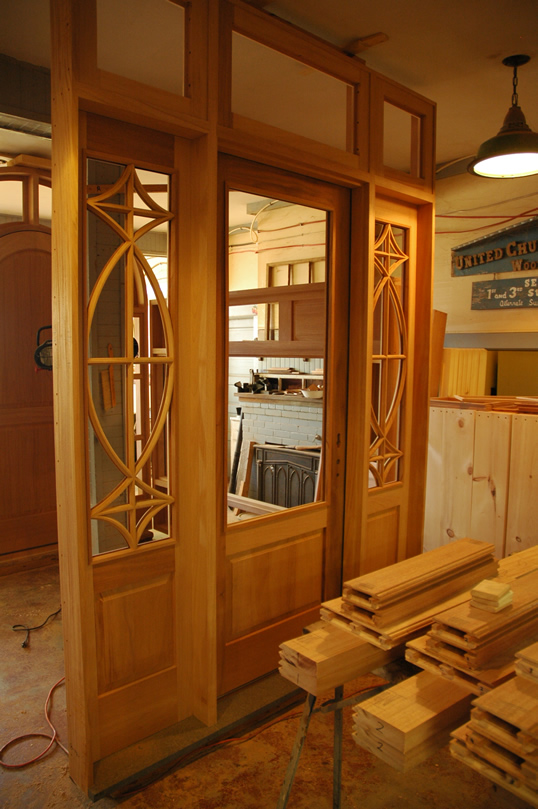 Mahogany entrance that is a perfect replica of the old one at the Tattingstone Inn, Wolfville, NS. We can replicate finely detailed muntin work...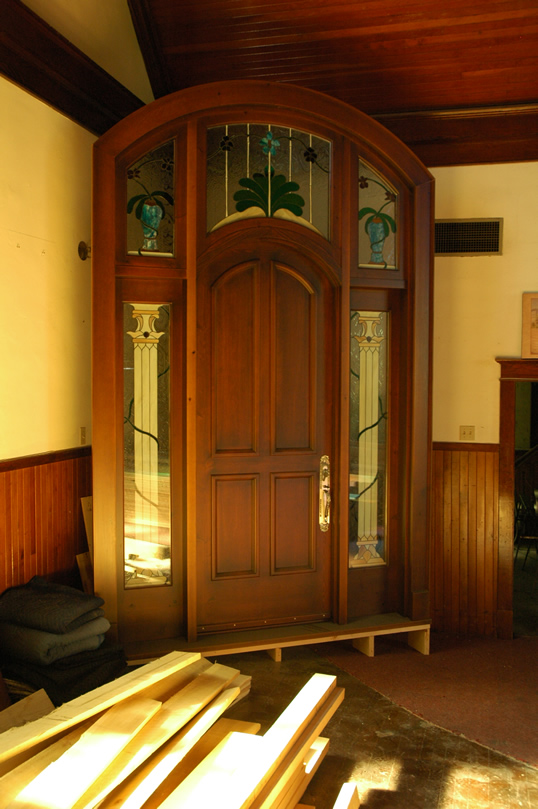 If you have a 12' ceiling this one is in our gallery for sale...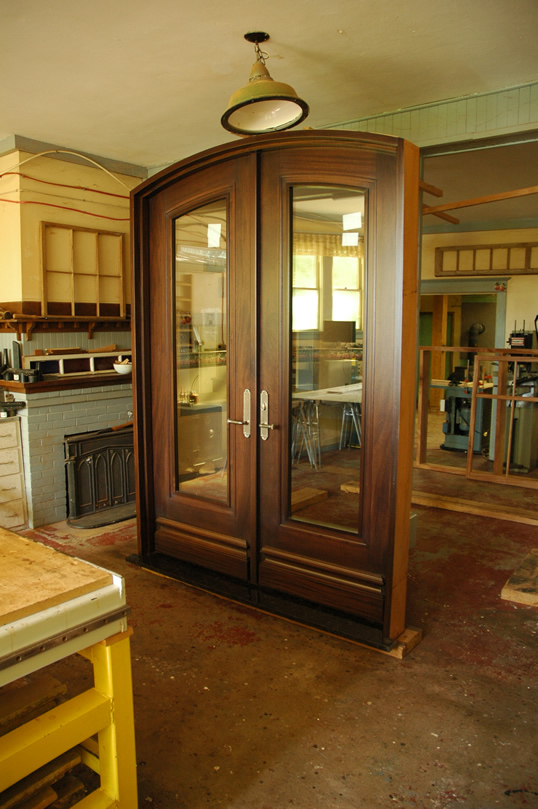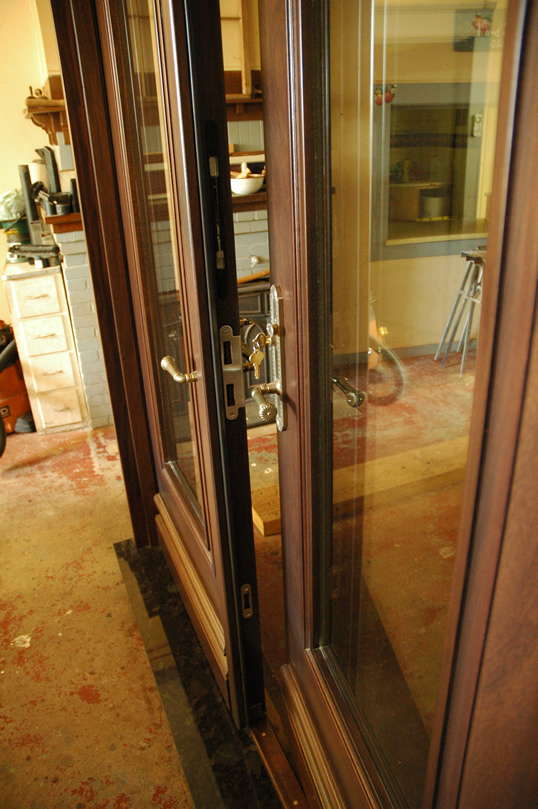 The above two images are an entrance we did for Costandi Designs. Mahogany with polished granite sill, multipoint lock and custom designed Rocky Mountain Hardware.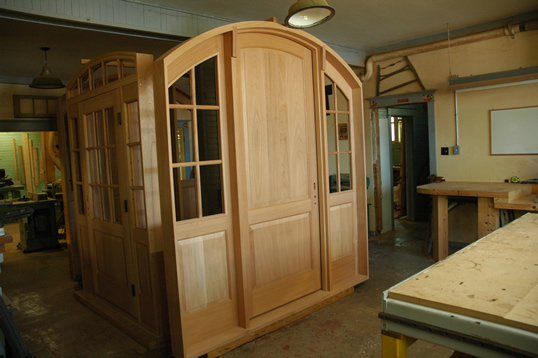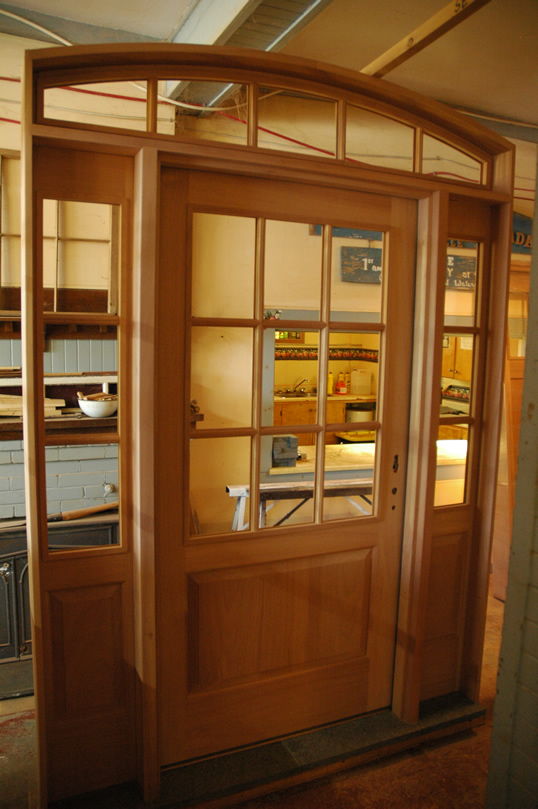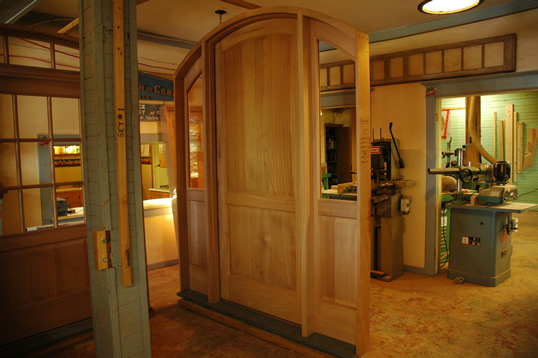 The above are three entrance systems all for Craftsman Construction customers in PEI and NB.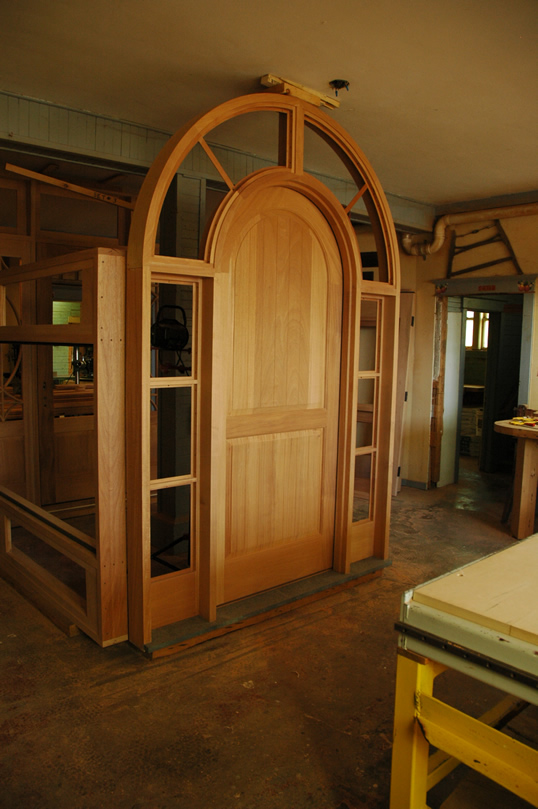 This grand piece went to a customer from Calgary, AB. We ship anywhere in North America.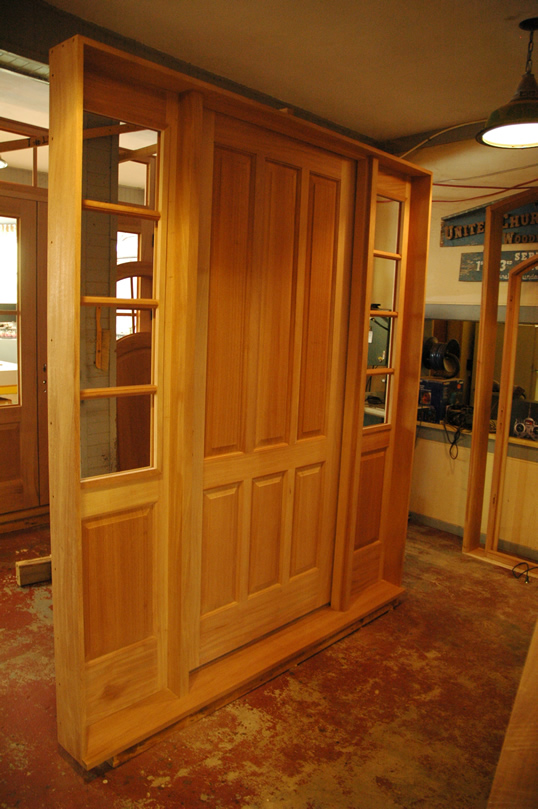 Colonial styling in mahogany... going to New Brunswick.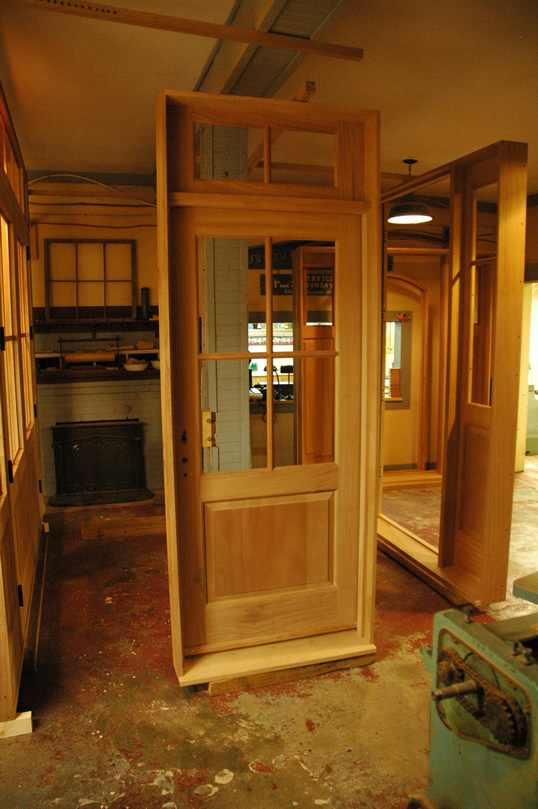 Mahogany side door with minimalist-traditional styling.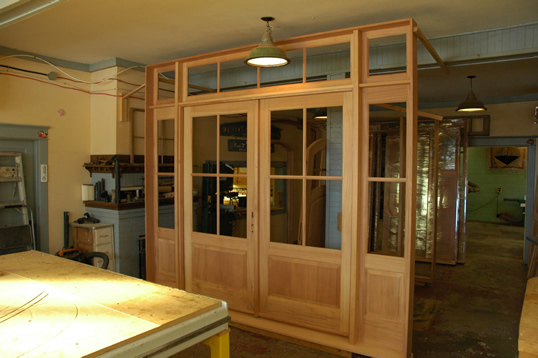 A massive mahogany entrance. This is going to be pretty stunning after finishing and installation. This one going to PEI...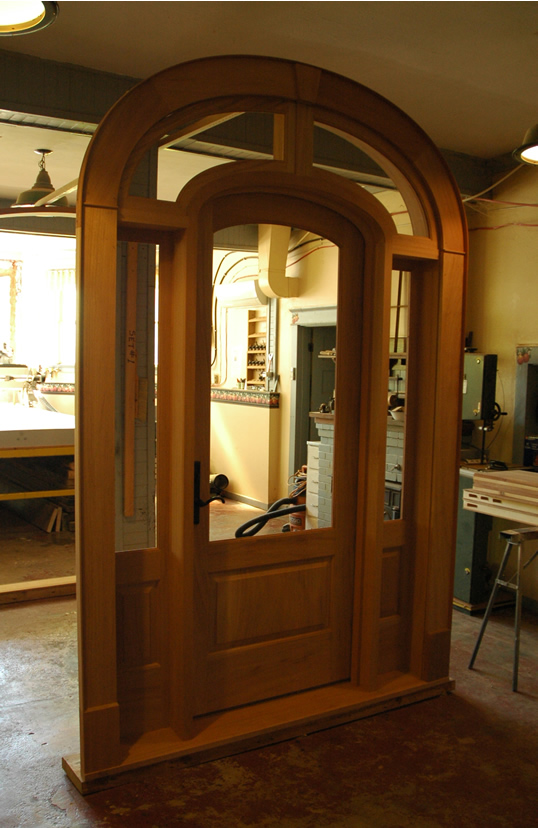 A perfectly proportioned, elliptical-top mahogany entrance going to Sydney...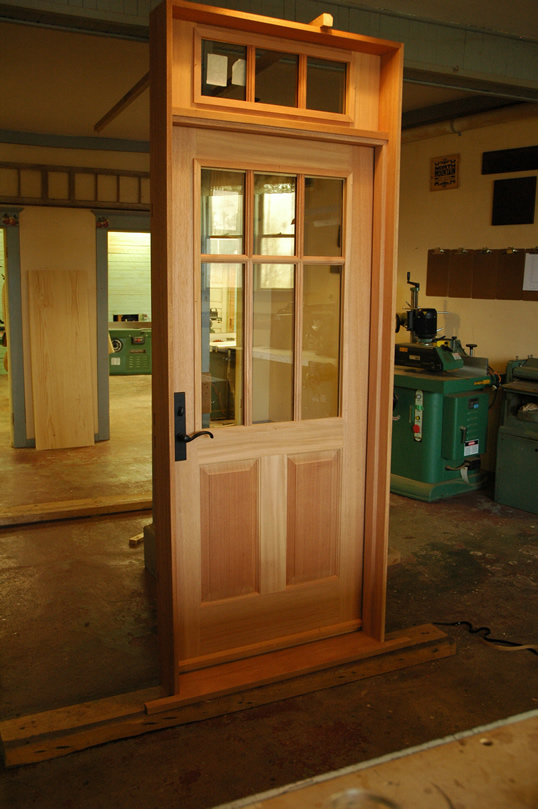 Single doors with transoms can be nice! This one was well seen.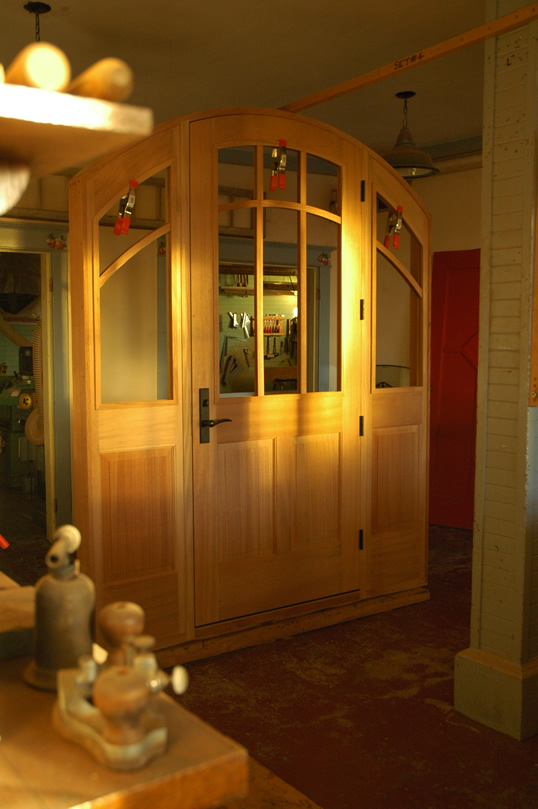 It's difficult to tell from this photo just how big the actual door is in this entrance system we built for a Prince Edward Island customer. At 42" x 98" this is a massive mahogany door. Uniquely clean radius work here as well...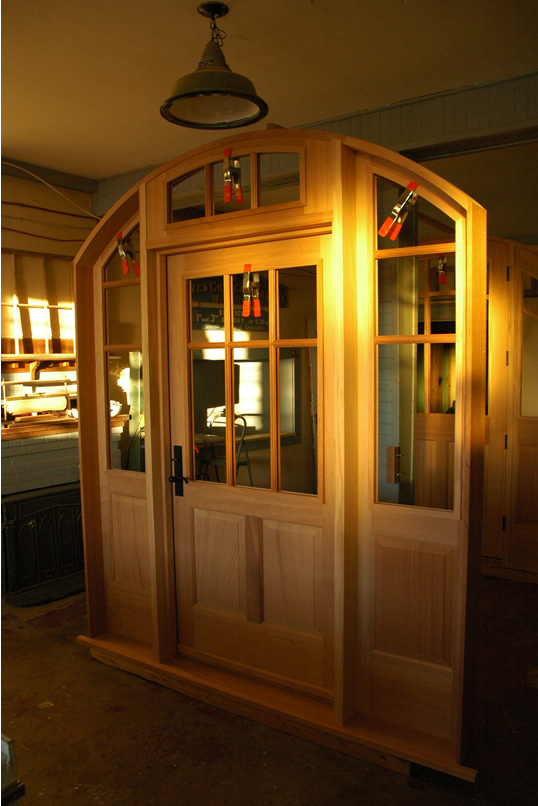 A nicely designed mahogany entrance system going to New Brunswick for our friends at Craftsman Construction. This one will get art glass for both decoration and privacy.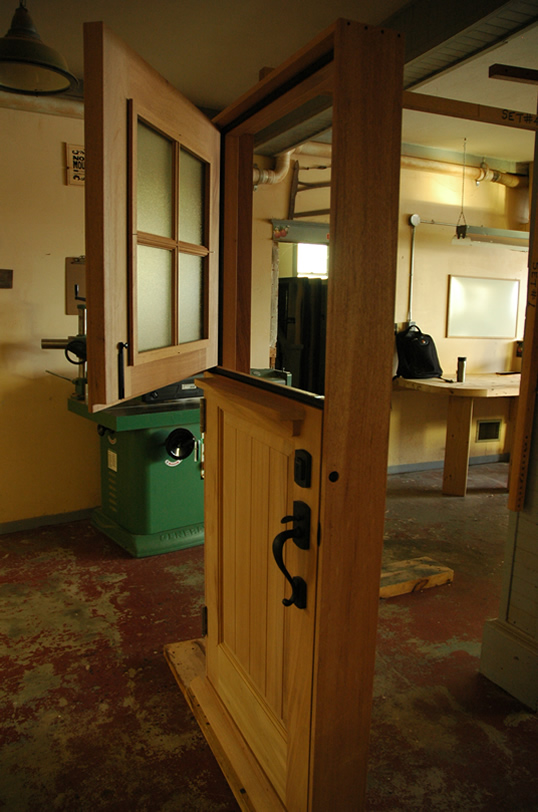 A 'Dutch' entry door we built for a customer in Halifax. This one has a dentil shelf, frosted glass for privacy and a nice solid brass handle. Should look really nice once the finishing is applied...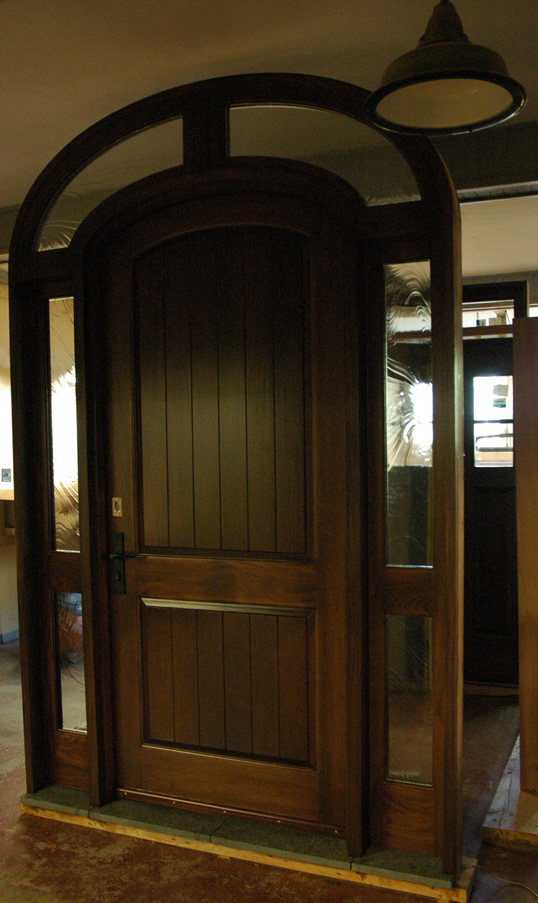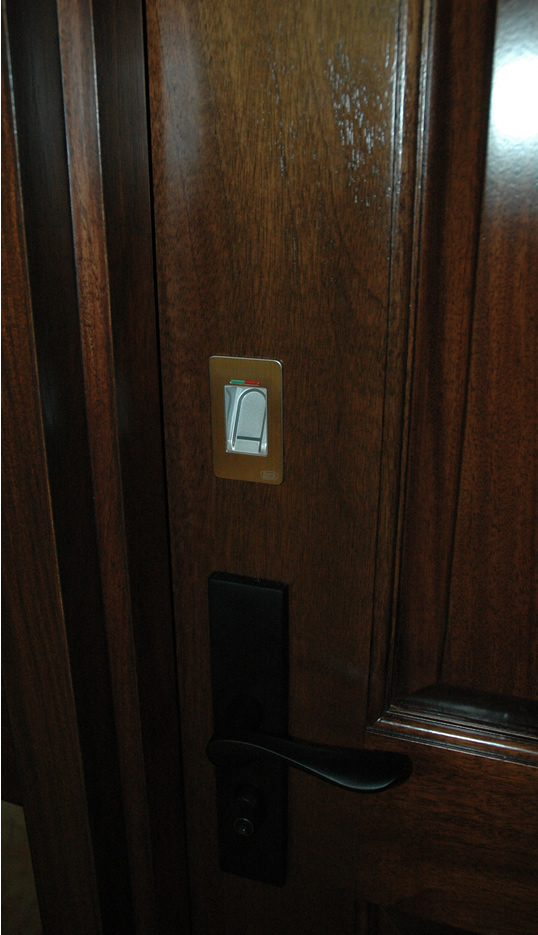 The above 2 images of an elliptical mahogany entrance system we built for Craftsman Construction in PEI. This particular entry went to a beautiful home they built in New Brunswick. The biometric fingerprint reader you see here doesn't simply actuate a deadbolt, rather it opens the door automatically by releasing a 3-lock multipoint mechanism. Bleeding edge technology...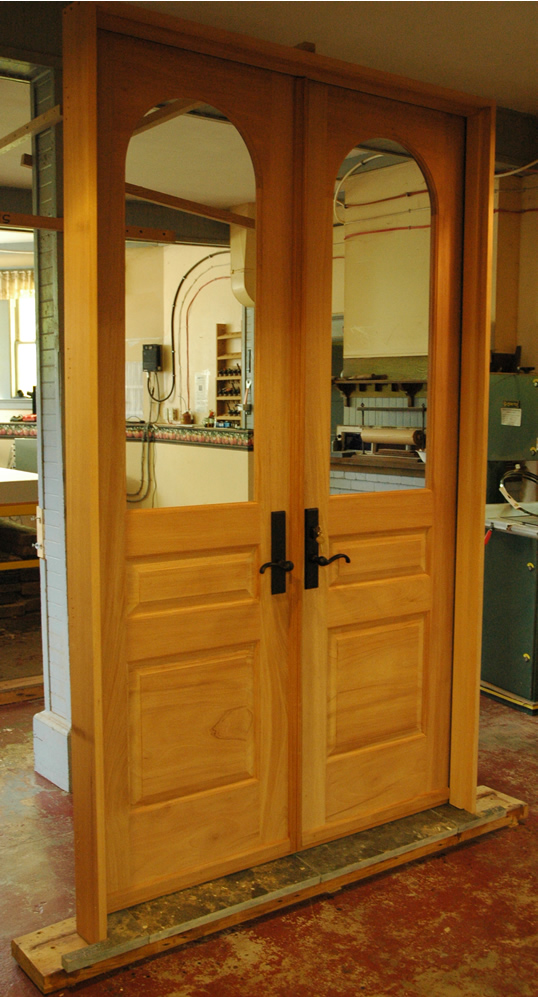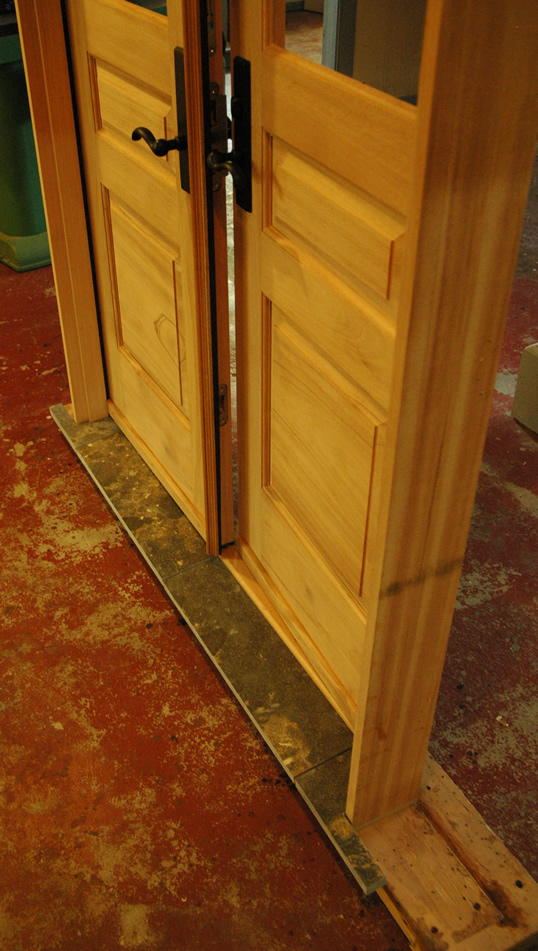 The above 2 photos of a classically elegant round-top, double door set. This set was done in mahogany and features and earth-tone granite sill, multipoint lockset and single-throw astragal bolt. A high quality entrance for a local, high profile historic property. Thanks Mike and Jenny...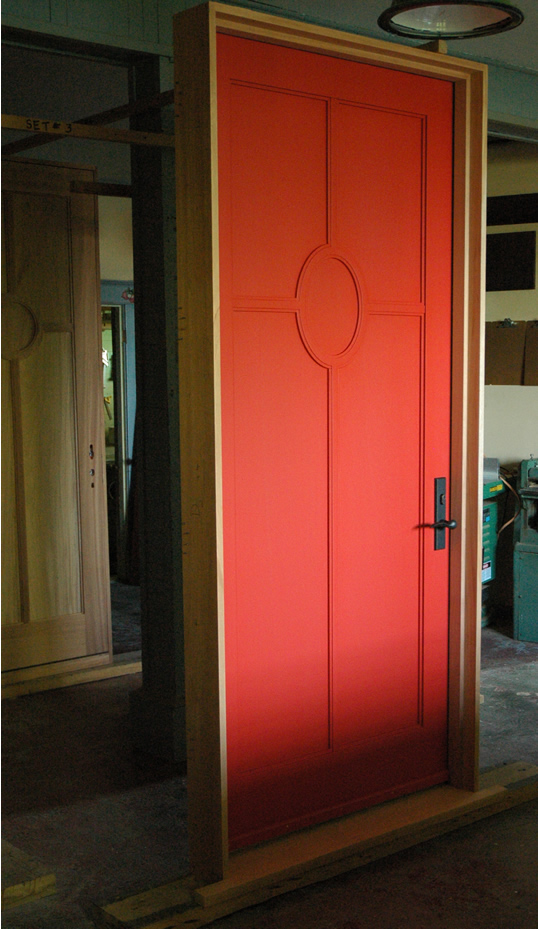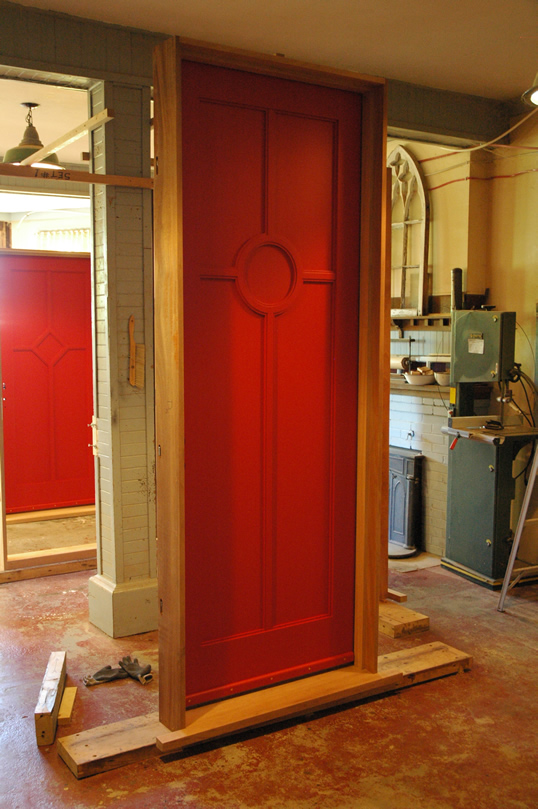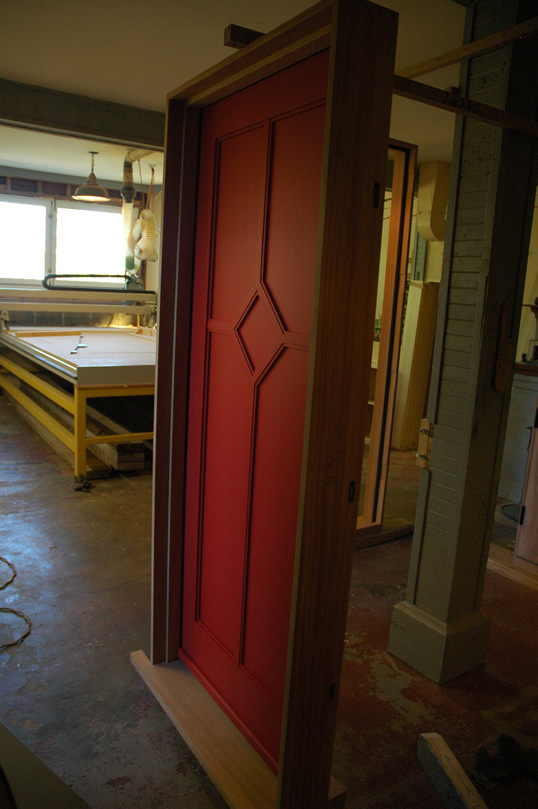 The above 3 exterior doors were part of a thematic 5 door set we made for a new build in Mabou, Cape Breton. It's not very often one would see 2-1/4" thick mahogany doors painted but this customer was confident in their vision and although initially sceptical, we would later understand this vision. Well seen guys...
(BTW: in the very bottom photo you can see slots on the outside of the jamb. This nicely illustrates the holding power and extra warp protection that a multipoint lock provides...)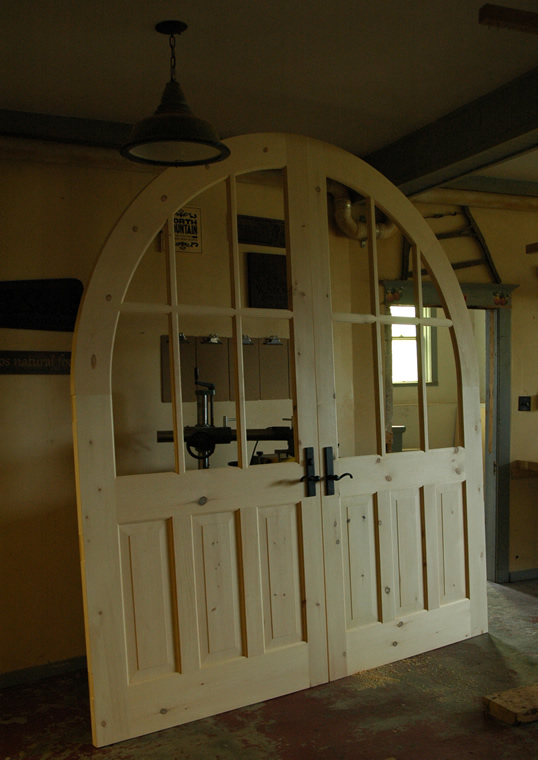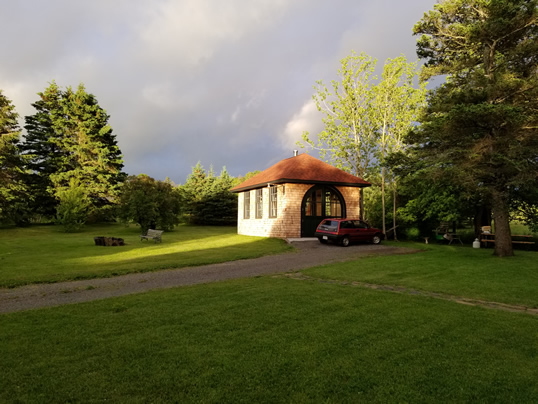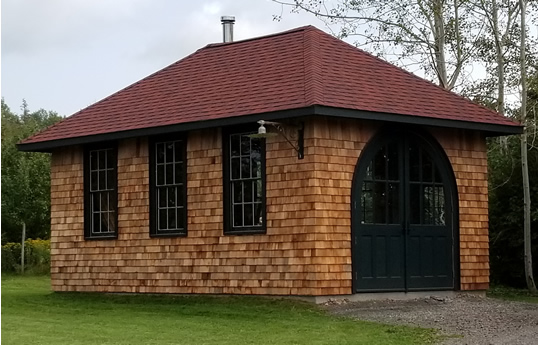 If there's a nicer set of carriage house doors out there... we haven't seen them.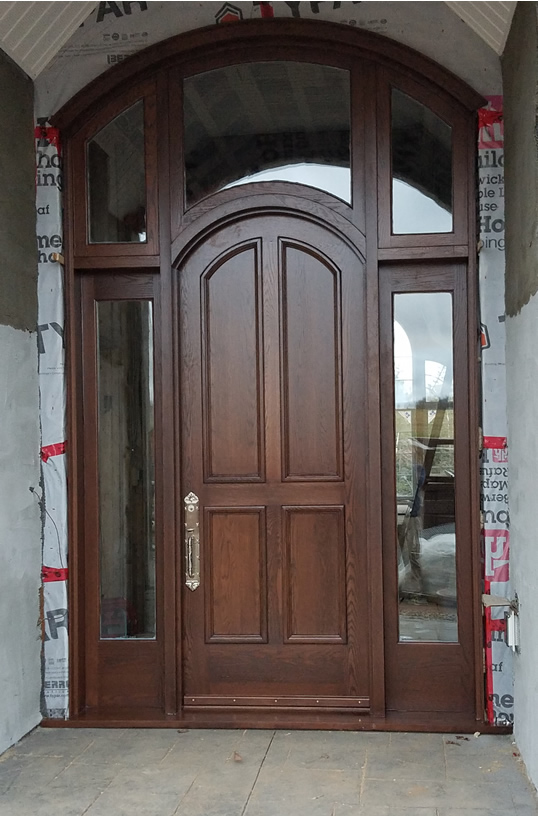 A massive, 12' high oak entrance we built for the Brydon family. Welcome back to NS guys and I hope you will be very happy in your new home.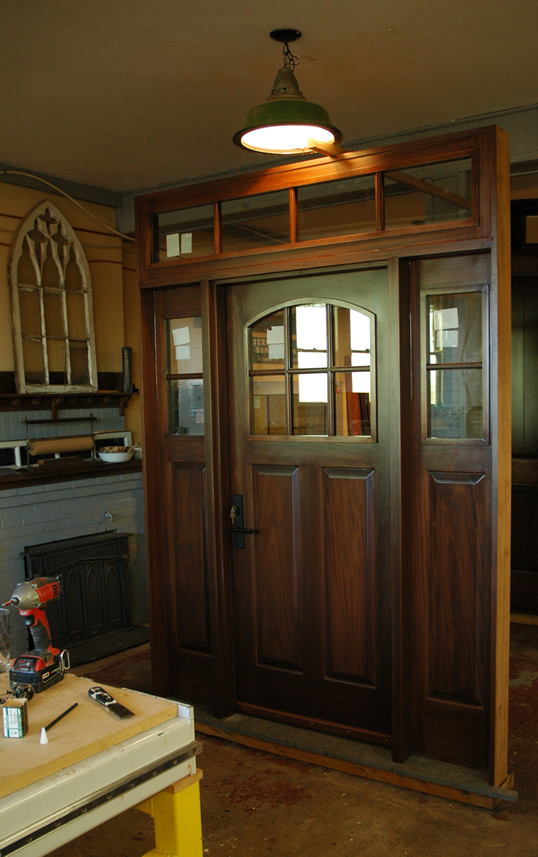 Another lovely mahogany entrance we built for Pinehurst Homes iin Fall River. Thanks Todd.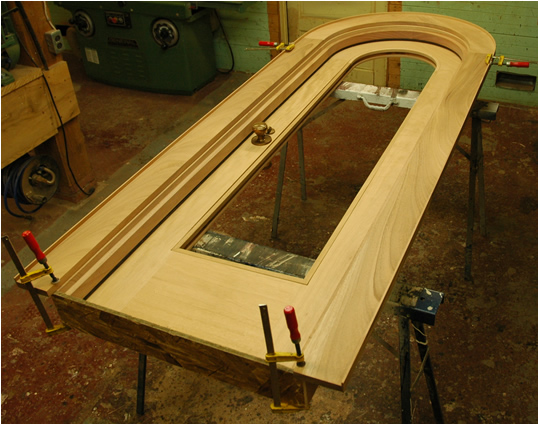 To all our wine cellar door customers - I'm always a tad envious every time we complete one of your doors. An admitted wino, I know how nice its going to be for you passing through this door into your little grape dungeon and yes, it makes me envious that I don't have one too... Someday...
This tasteful example we shipped to Calgary, Alberta.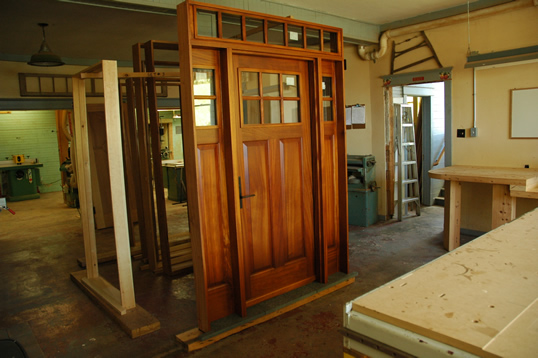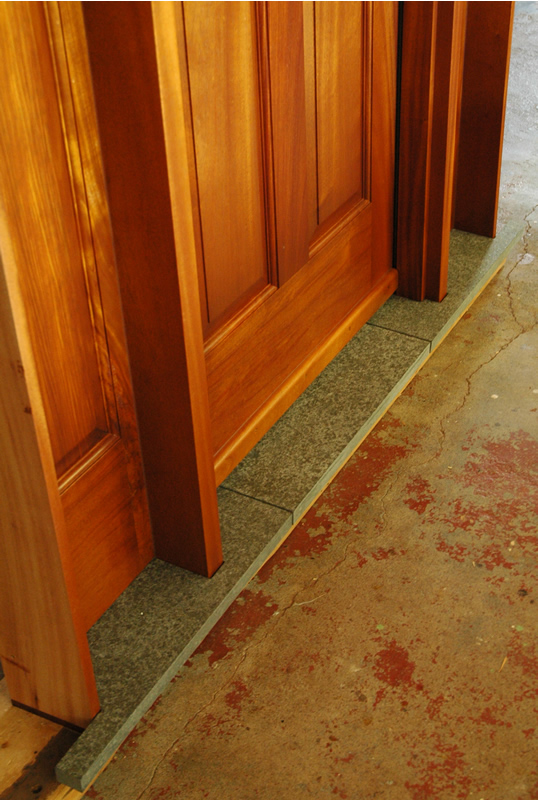 A traditional craftsman with a cleanly integrated transom. I often forget how nice natural finished mahogany actually is... This one went to Wolfville, NS.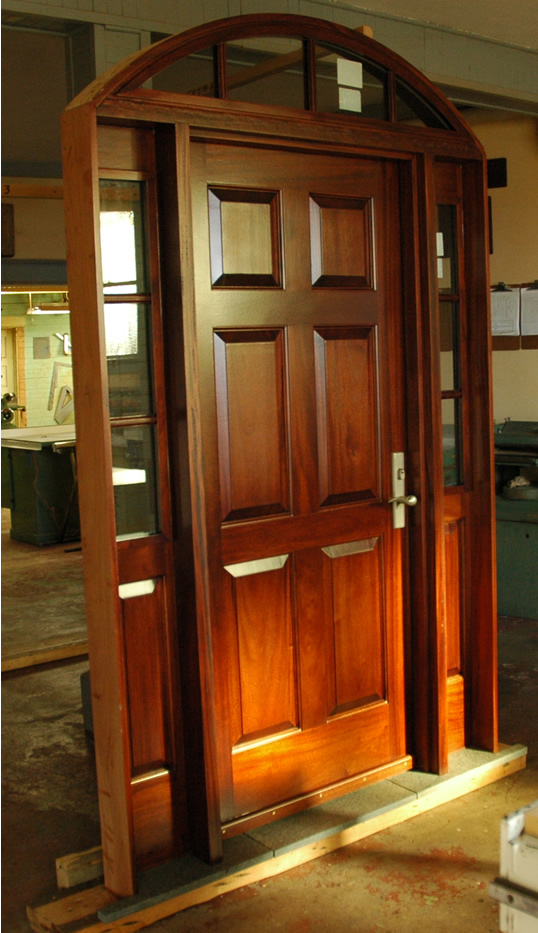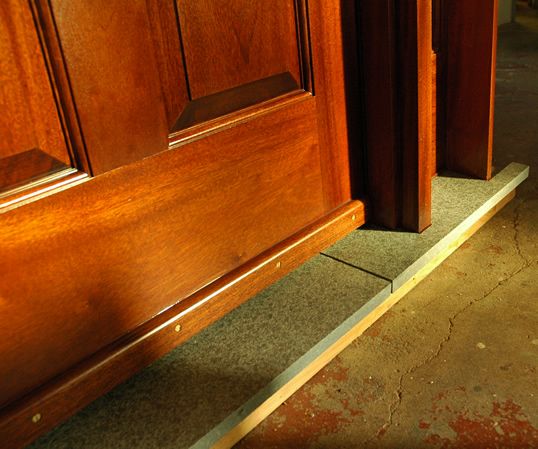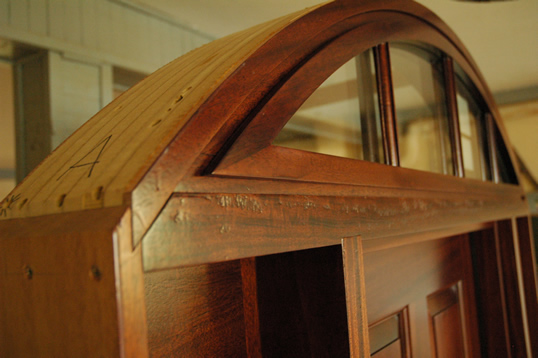 Colonial with an impossibly shallow eyebrow transom. If there is one thing I want to convey from the above 3 images to potential customers whom want a transom but don't really have the height in their plan - we can probably pull it off for you. We are probably the only people who can make this type of product possible. I include the detail of the bottommost image to illustrate how efficient and clean our designs are. To tuly appreciate this entrance one really needs to see it installed and with trim affixed. Here its a bit like a picture without a frame.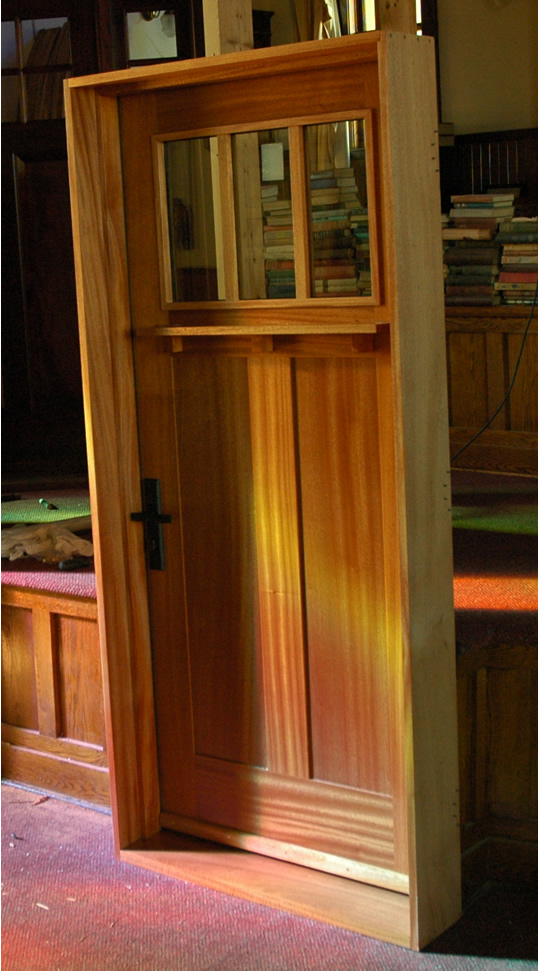 An shaker style arts and crafts African mahogany entrance finished natural with clear coat only. This one has a dentil shelf and a 3-point multipoint lockset. This one is going to Charlottetown PEI.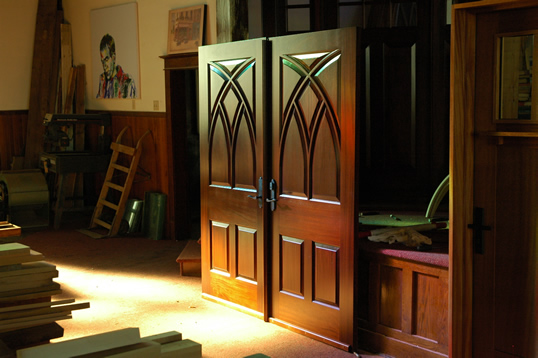 This double door set we made for St. Andrews United Church in Rexton New Brunswick. These are replica's of their old doors whick were beyond repair. Made exclusively of mahogany with classically wide middle lock rails we are particularly proud of this result which encorporates some of the most complex joinery you will see in a set of ogival style doors. Below are some close-ups of the joinery...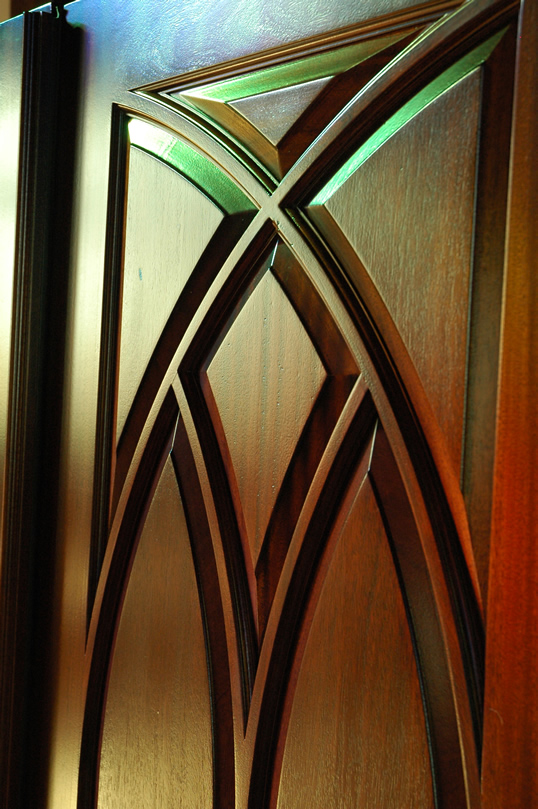 Keep in mind this is not simply a carved out panel from one piece of glued-up mahogany - these are all floating panels housed in stick-cope joinery. Also, all the raised panels here are single boards - we have an inventory of extra wide stock which allows us to give our customers the best of quality.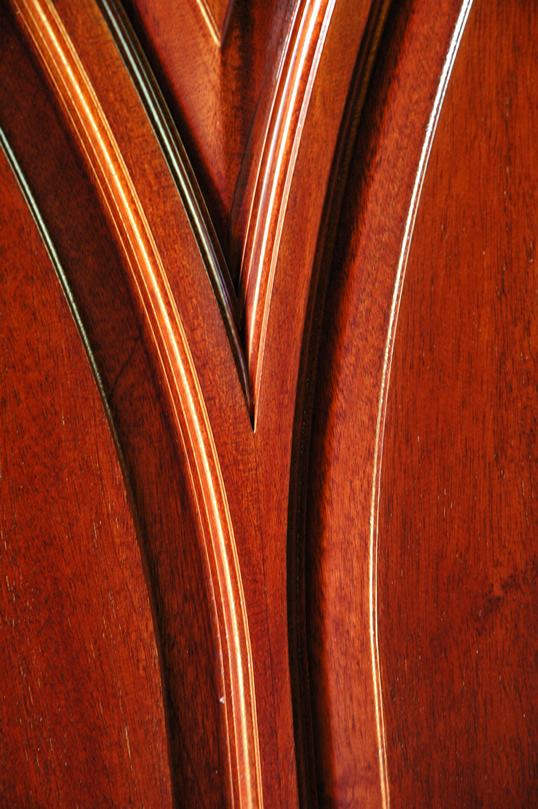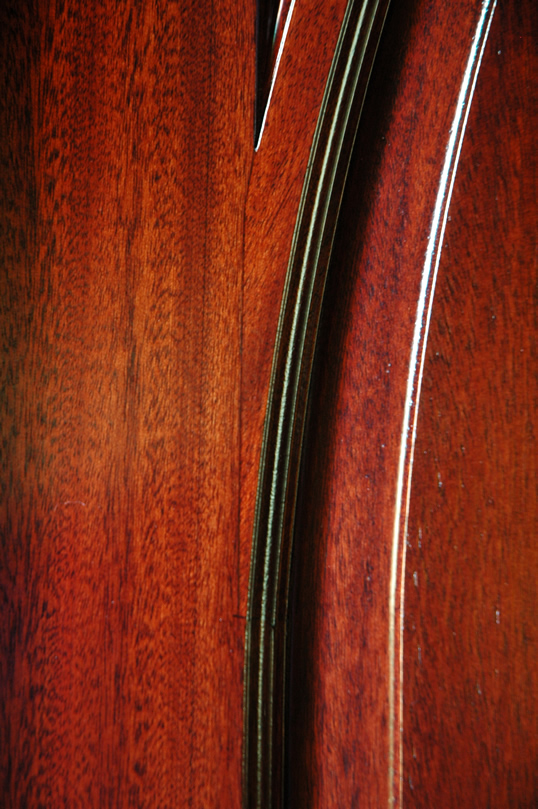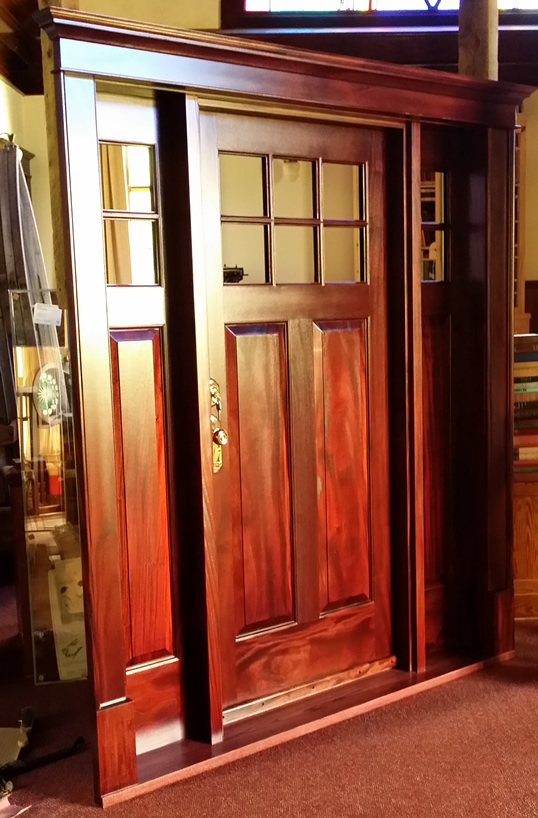 An arts and crafts mahogany entrance with a generous classic colonal trim adornment...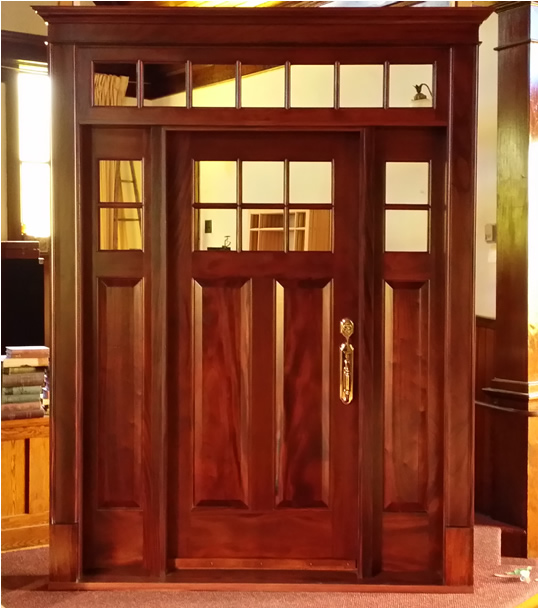 This one identical to the above only with a really nice transom affixed...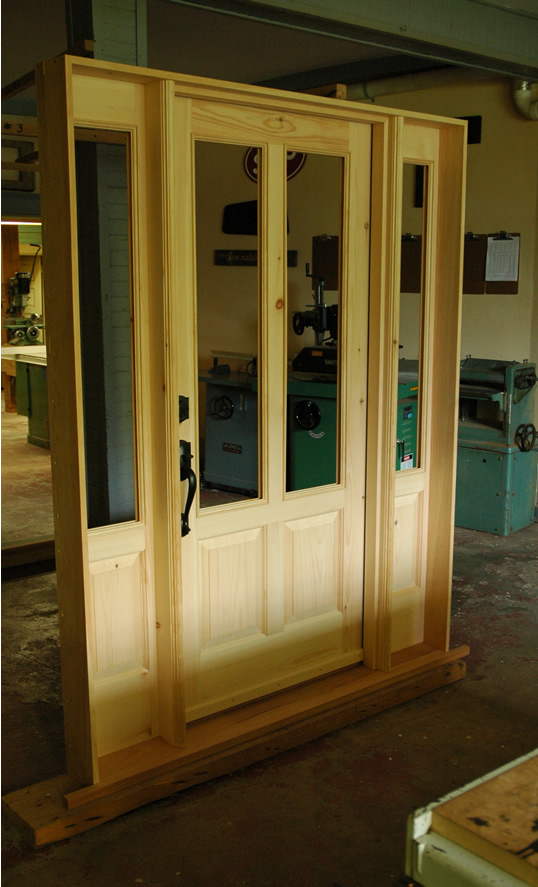 An unfinished traditional pine entry going to a customer in Greenwich. NS...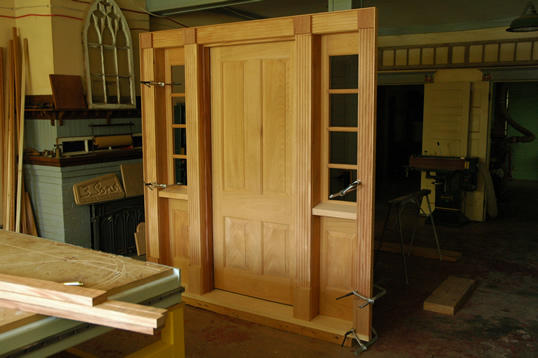 An all-mahogany entrance going to Middle Musquodoboit. This customer had a photo of an entrance that they simply had to have for their new home and replica's are our specialty. We did matching interior and exterior trim kits that are quite striking in design. Thank you Laura and Seth.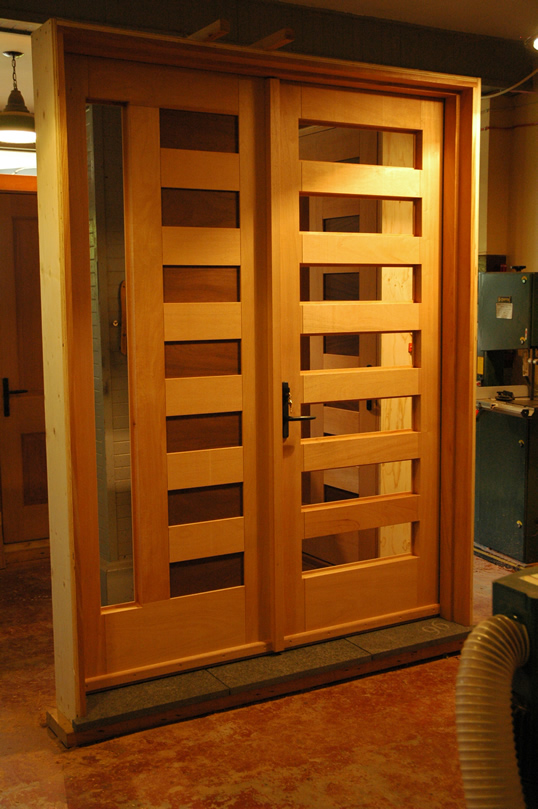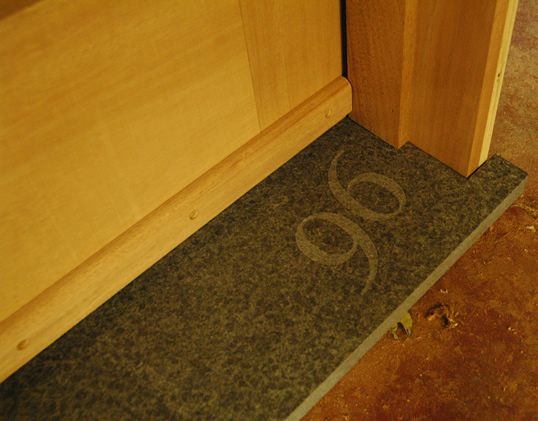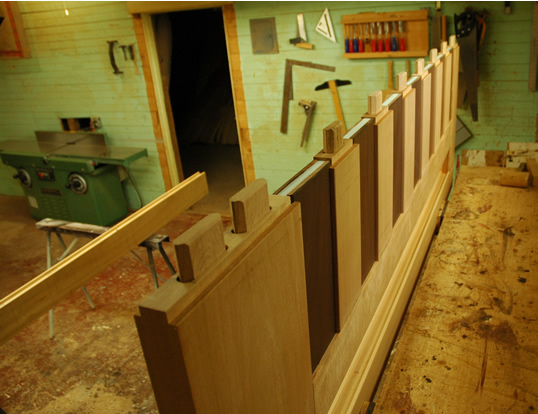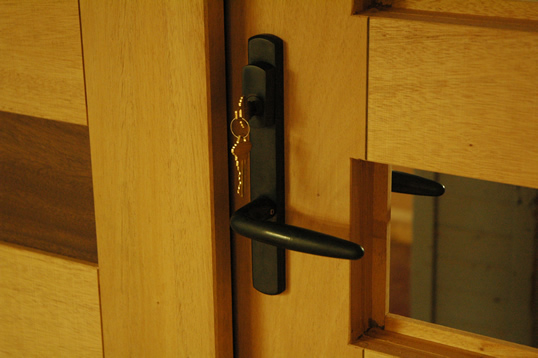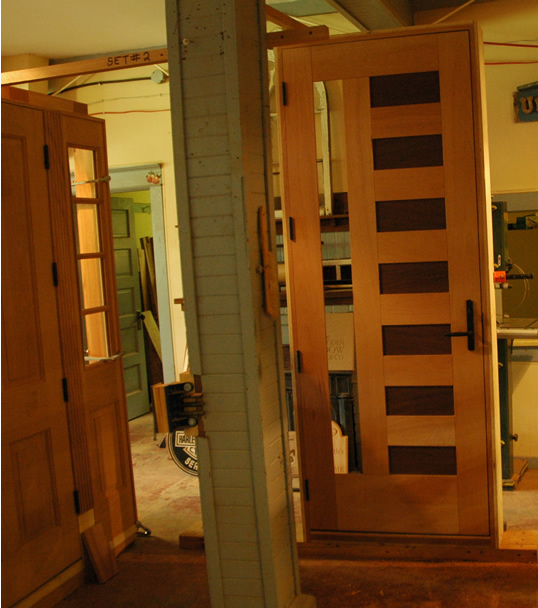 The above five photos are from a project we completed this past summer for a home in Port Williams, NS. Both main entrance and side door are eight feet in height and were crafted with mahogany doors/jambs and granite sills. These are both good examples of our shaker style doors. Items to note here are the insulated panels, exclusive use of multipoint technology and finally, the engraving of the customers house number in the granite sill. We now have a large 13' x 7' CNC machine that will both engrave granite and mill wood. A big addition to our business! You can watch the video of the engraving of this actual sill here...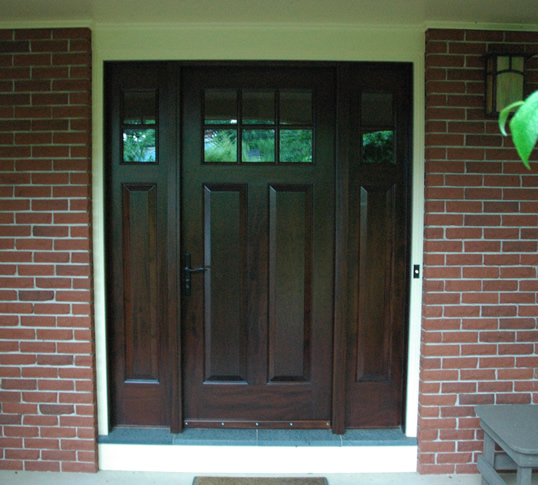 One of our more classic designs. We fitted this mahogany entrance with a granite sill and a Gretsch-Unitas multipoint lockset and lever trim. We met up with an old friend whom did the install - thank you Mr. Pat Farrell for making us look good!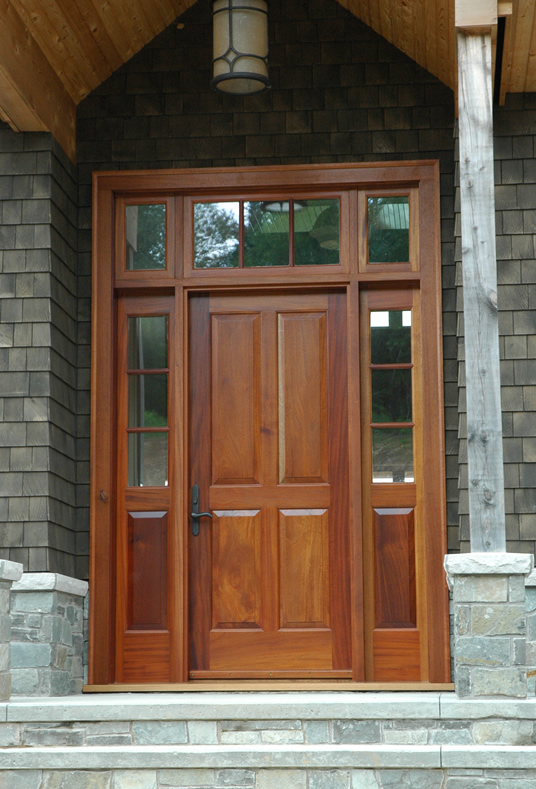 We built this mahogany entrance for a couple in Kingston, NS who wanted something traditional and organic. A nice result.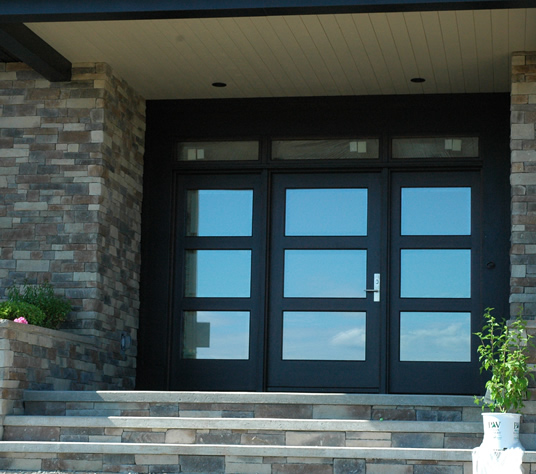 A good example of one of our more modern designs. Although not very clear from this picture, we used frosted thermal pane glass as our customer wanted to maximize on light but maintain privacy. This is the darkest stain we've ever used on mahogany but the grain still shows nicely. We shipped this system completely assembled and it was a heavy piece...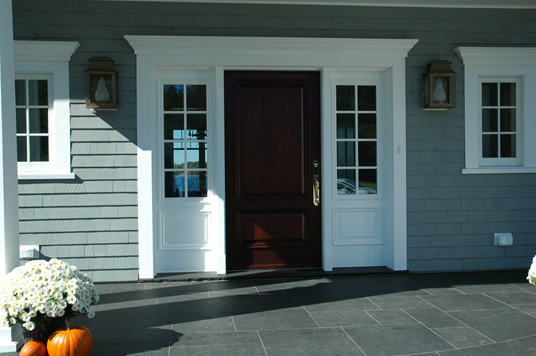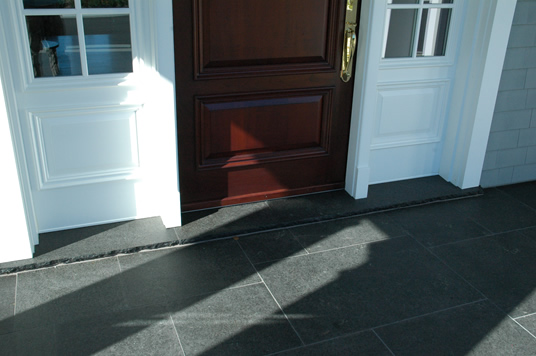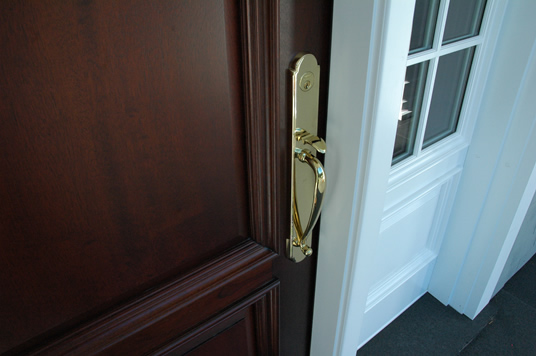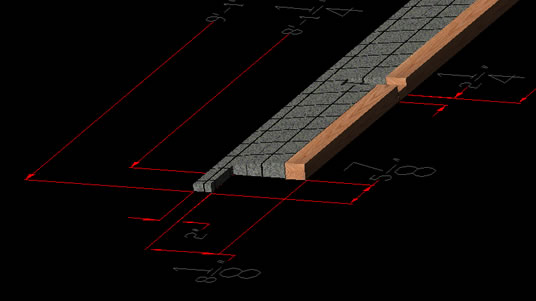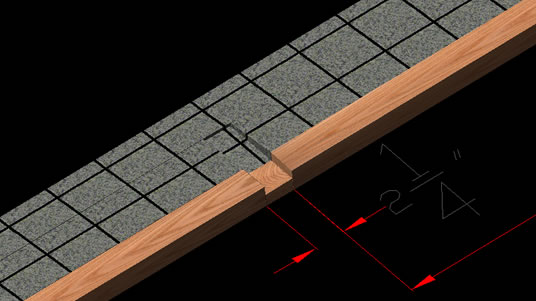 This mahogany entrance we built for a customer on the South Shore has a few defining features worth noting. We are now offering stone/granite sills for our entrance systems - you can see in the second pic from the top just how seamlessly our sill melts into the rest of the stone. We've added our shop drawings here as well for future reference with our designer/architect contacts... The other point of interest are the large bolection raised moldings. These are old-school size and although my picture doesn't show it very well, the same molding is continued over to the sidelites. With these bolection moldings both on the interior and exterior, this door is over 4" thick at its widest points.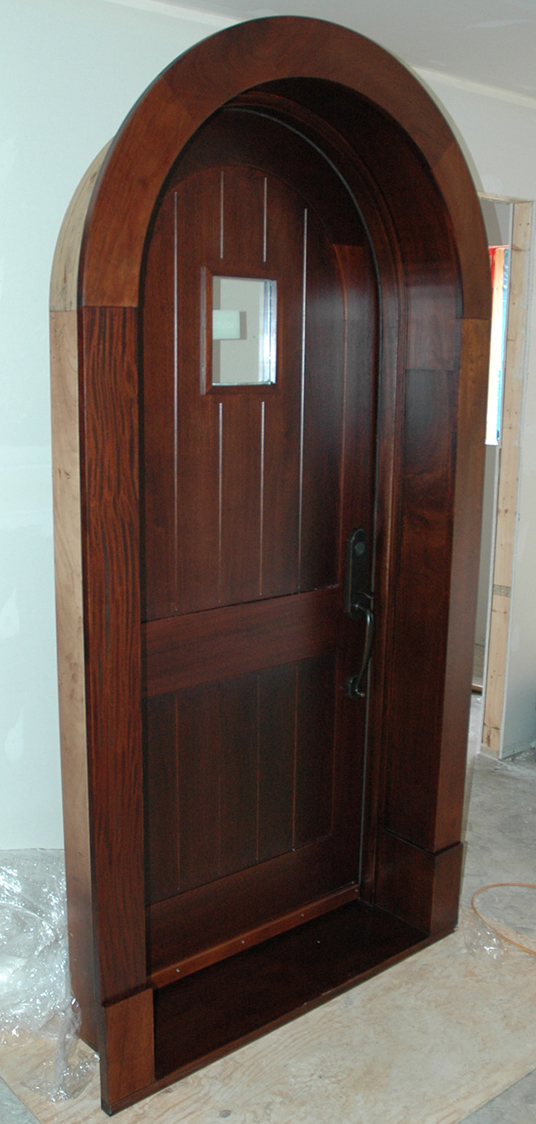 Super classy arched, v-grooved mahogany with glass just big enough for Mike's head... This one went to Bridgetown, NS...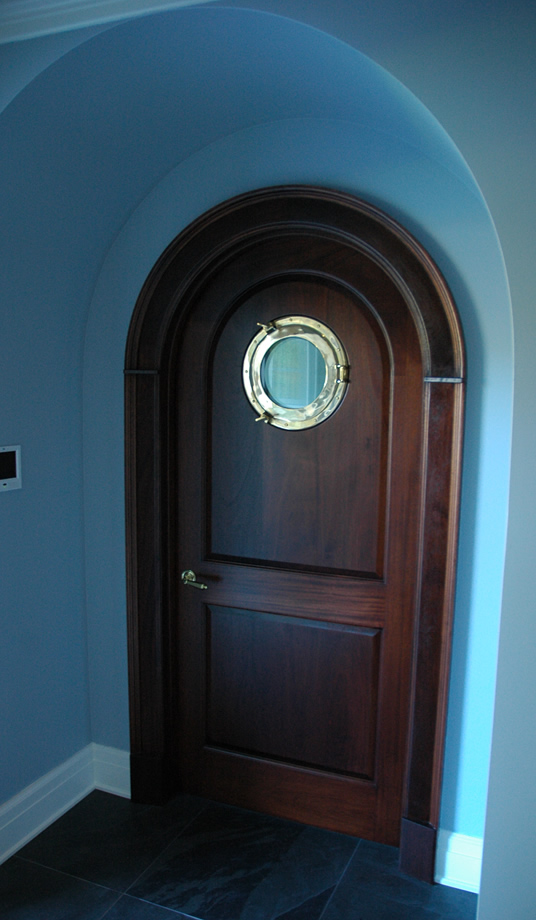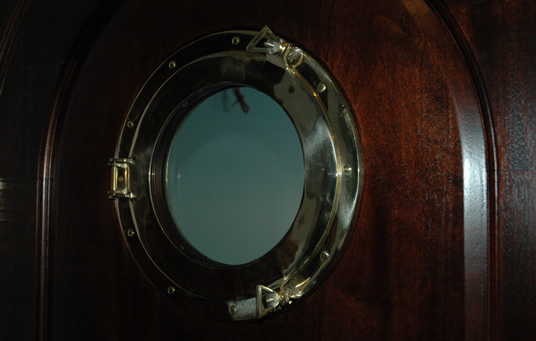 One of 5 arch top mahogany doors we built for a customer on the South Shore. The porthole you see is solid brass and best of all - it's operable...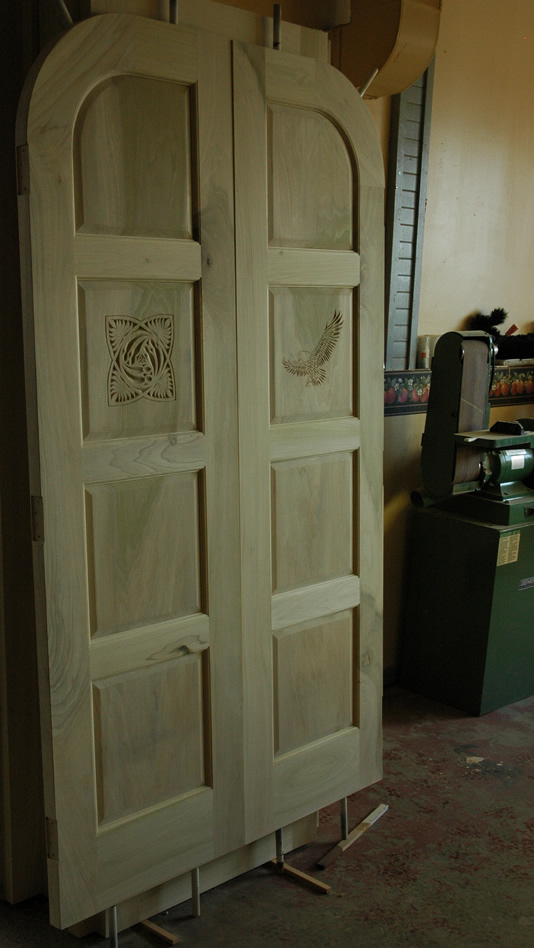 A double door set that will be installed into a yurt... I didn't actually know what a yurt was until I met the owners of Little Foot Yurts. If you want to buy or rent a world class yurt give Alex and Selene a call...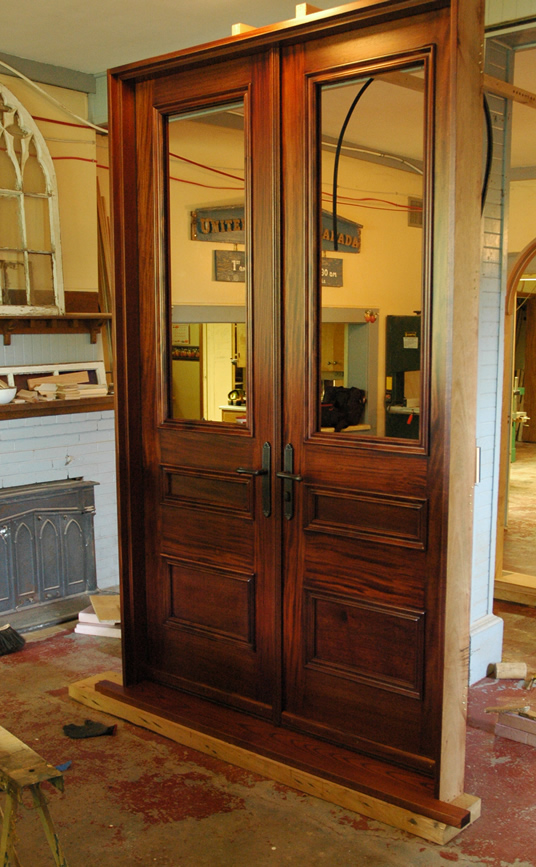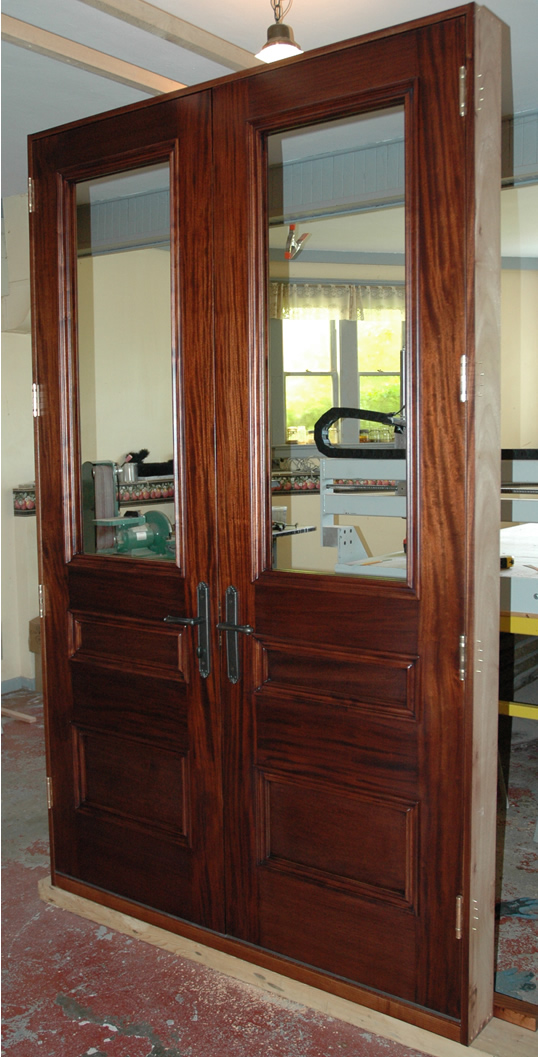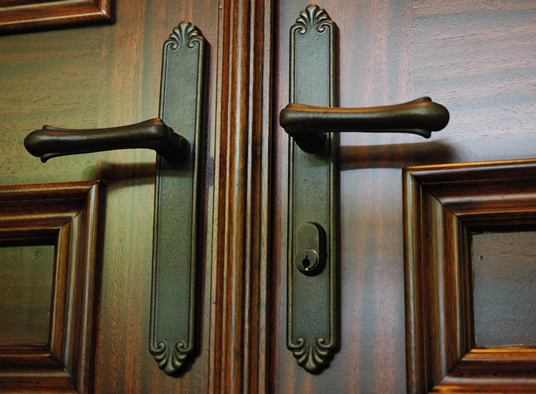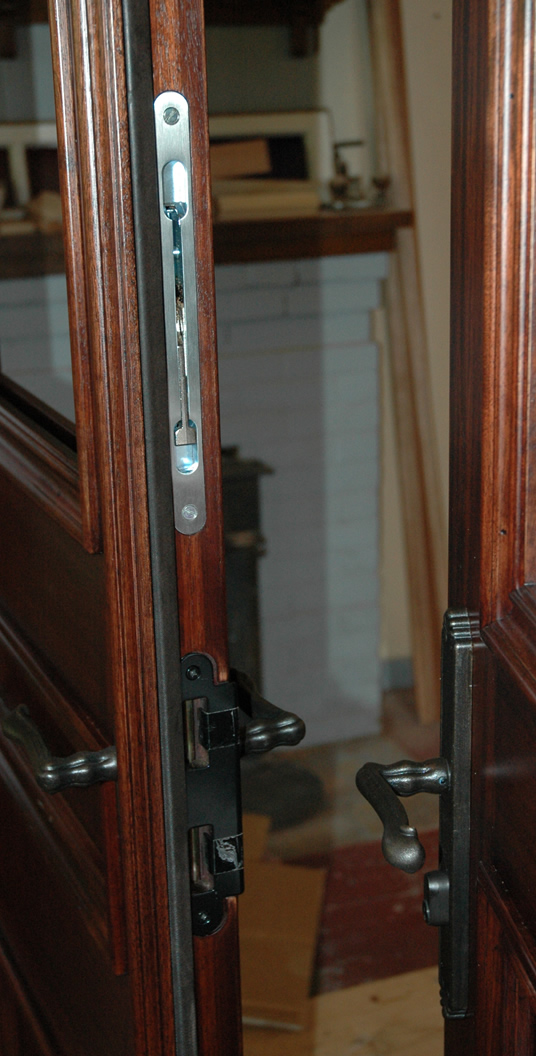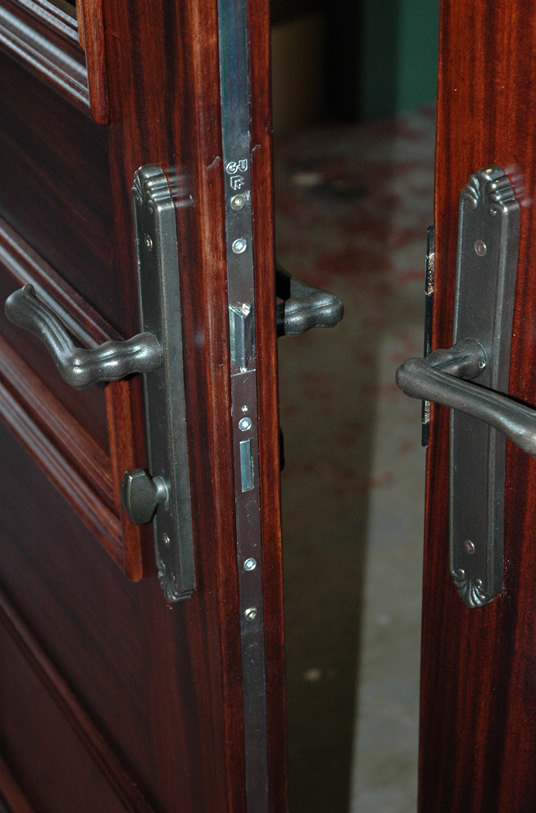 The above 5 photos of a mahogany double door set going to Annapolis Royal - Granville Ferry. This is a reproduction set which will replace a drafty, beyond repair door set in a lovely Victorian home. Things to notice here are the single-throw astragal latch which holds the inactive door and the multipoint (3 points) lockset for the active door. Ultra modern functionality wrapped is beautiful mahogany architecture...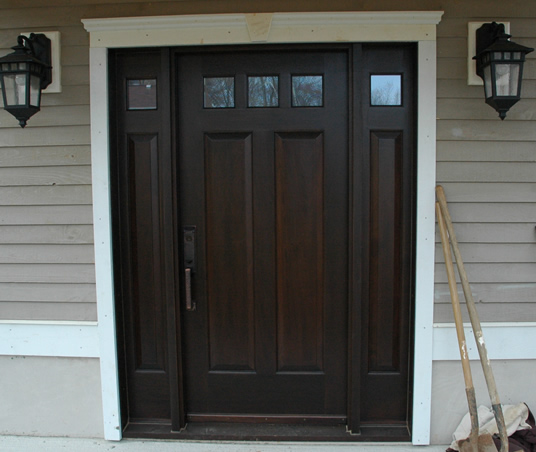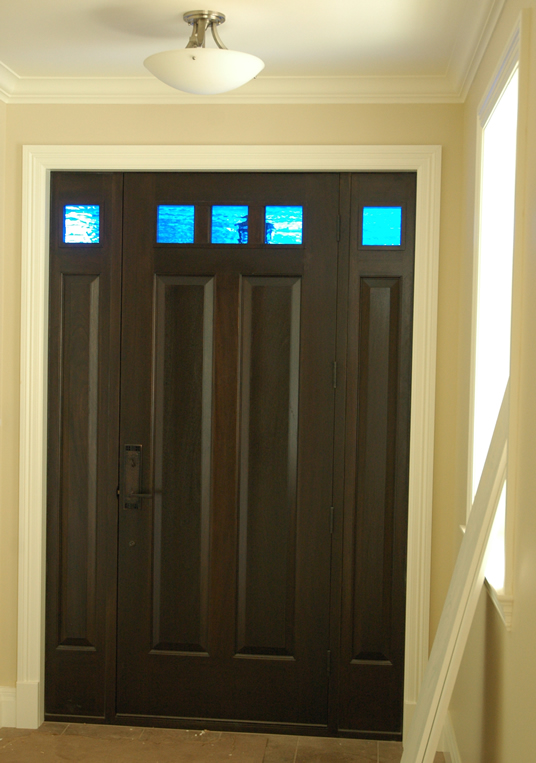 Two entrance systems we built for Bentley Built Homes The top photo is a standard 80" entrance and the bottom is an oversize 96". This is a fresh, clean design with a narrow string of cobalt blue lights atop. Thanks John and Denise!